Talan is a safety shoes brand of Ukraine and can be bought from T C Group in Sharjah, Dubai in U A E.  It was established in the year 1923 and it completed a century in the safety and personal protective equipment field.  Talan is a group company that includes 8 different entities.  In the Safety Shoes segment, it produces 3.5 million pairs every year.  The group had become the leading P P E manufacturer in Ukraine.  The manufacturing factory consists of state-of-the-art machinery to produce superior-quality shoes and other P P E products.  Most of the production machines are German-made to ensure the quality of products.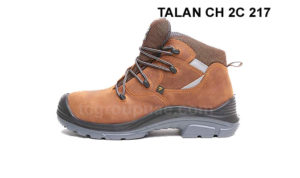 Standards
The Safety shoes go under multiple testing methods and all the products have C E  Certification as per the standard required.  Talan Safety Shoes are coming in S1, S1 P, S 2 an S 3 standards.  There are water-resistant shoes, Lightweight shoes, and Shoes for Airports as well. Further, it has sports-type safety shoes, medical safety shoes, and Executive shoes categories.
Talan safety shoes have the quality certificate issued by T U V Rheinland company – Germany. It ensures quality and thus the trust of consumers.
All Talan shoes are coming with breathable materials.  This makes a lot of wearing comfort for the wearer.  The wearer can work for longer hours without much fuss or discomfort.  Also, the safety shoes contain a Toe Cap that definitely withstands the impact of 200 Jules.  200 Jules is the minimum requirement for quality safety shoes.
Another important raw material to mention is leather.  Talan selects natural leather with 2 & 2.2 mm thicknesses to keep the unmatched quality.  Natural leather gives more life to the safety shoes and reduces bacterial impacts and odor from the shoes.  The safety shoes are having metal plate fused in the sole and which prevents penetrating objects from the surface.  This includes sharp objects and nails etc.  Sole is a double-density P U that gives super comfort and shock absorption while jumping or during impacts.
Models:
Talan Safety Shoe S E 2M 162 – Low Ankle
CLICK HERE TO BUY ONLINE
Talan Safety Shoe S E 2 M 112 – High Ankle
CLICK HERE TO BUY ONLINE
Talan Safety Shoe C H 2 C 111 – High Ankle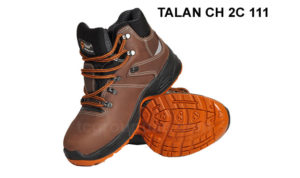 CLICK HERE TO BUY ONLINE
Talan Safety Shoe G H 2C O 217 – High Ankle
CLICK HERE TO BUY ONLINE
Talan Safety Shoe 170 – Low Ankle
CLICK HERE TO BUY ONLINE