Safety Jogger Shoes Dealer in Dubai UAE
Safety Jogger is a Multi-National Company engaged in production of multiple Personal Protective Equipment worldwide.  It has dealers in Dubai, Sharjah, A b u D h a b i and other emirates of UAE as well.  The main item of Safety Jogger that is available in the U A E market is Safety Shoes.  It has vast range of safety as well as casual shoes.  The Slip-on type safety shoes model is D O L C E.  Also, Safety Jogger Manager, X 1100, X 110, X 2000, Safety Jogger Ligero, Absolute, Hercules, Best boy are other best sellers.
Safety Jogger Safety Shoes Models
Safety Jogger has quite a lot of models in Safety shoes segment.  As mentioned in the above paragraph, the following models are the best sellers in the region: (Details will be available on the link against each model).  The shoe segment is put in to ten sections.  They are named Industry, logistics, construction, medical, Uniform, F & B, Catering, Tactical, Adventure and Accessories.
Also, there are models that are Low Ankles, Original High Ankles, Boots, Adventure shoes etc.  Slip on type executive shoes and ladies safety shoes are another attraction.
Safety Jogger has manufacturing facilities all over the world.  The company has centralized logistic department and t Europe and Asia locations serve the U A E.
Model: Manager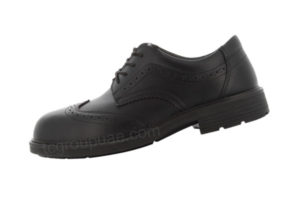 Safety Jogger Manager is a S 3 class safety shoes model.  Upper is N a p p a Action Leather. European sizes 38 to 47 are available in this model.  It has mid sole with a puncture resistant fabric combination.  And Toe is  non – metal composite material make.  Certifications include: E N   I S O 20345 : 2011 & A S T M   F 2413 : 2018.  The shoe is Oil and Fuel resistant.  Also, this has a feature of electrostatic discharge ( E S D ) that avoids risk of spark at environments like gas filling area etc.  A non – thermal conductive mid sole made of special fabric combination is light weight as well as flexible and protective.
1.Model: X 1100
2.Model: X 1110
3.Model: X 2000
6.Model: ABSOLUTE
7.Model: HERCULES
8.Model: BEST BOY
Safety Jogger Shoes Dealer in Dubai UAE