Penkid Window Restrictor Quality
Penkid window restrictor is primarily a child safety equipment.  It is a cable based locking system of windows that is flexible and comfortable.  The equipment is suitable for any kind of window systems and panels or profiles that are made with wood plastic or MDF.
Normally accidents happen when the windows are free to open and wide open.  The Penkid restrictor allows opening of a panel only up to 15 centimeter or 10 centimeter according to the fixing point of the arrester in the panel.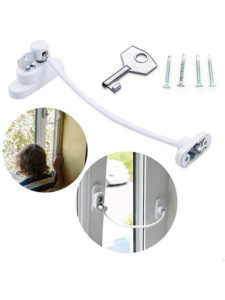 Due to its narrow opening of 10 to 15 centimeters, the chances of children falling through window is not arise at all.  The opening restriction stops children sneak through the slot of a Penkid fitted window.
The cover of the restrictor is made of anti-bacterial PVC coating.  The cable inside is also tamper free.
Penkid Window Restrictor Capacity
The restrictor has a capacity to with hold 550 kilograms of force – enough to withstand by any Child.  The arrester is certified with CE and BE-EN for the quality.
Penkid Window Restrictor Key
The Pen kid window restrictor comes with a standard key in the packet.  The packet consists of the restrictor, cover plates, screws for fitting and One Key.  The key is made of alloy metal that is sturdy enough but small enough to attach with any documents or door keys or card keys.
Penkid Window Restrictor Colours
There are Five colours of window arrester available in the brand.  White, Brown, Light Brown, Grey and Black are available.
Application of Penkid Child Lock
The Child lock or Window Restrictor is suitable for Schools, Nurseries, Homes and Hotels.  It becomes highly important when the window is in higher floors of the flats or buildings.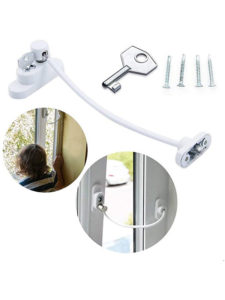 Penkid Window Restrictor Opening and Closing
The Pen kid window lock has a metal key.  The restrictor need to be in closed and locked position always for the safety of children.  Once the latch is inserted to the slot near the key hole, one simple turn does the locking and unlocking process.
If no one there to supervise children, it advisable to lock and remove the key from key hole and keep separately.